"May your home always be too small to hold all of your friends."

Irish Blessing
Small. Cozy. Quaint. Are these words really the kiss of death in a real estate listing?
The average home in the U.S. is 2,500 square feet, and since the 1970s, this number has increased by nearly 1,000 square feet. For some homebuyers, bigger really is better. Larger homes give American homeowners room for their hobbies, extra bedrooms for overnight guests, or even extra storage for outdoor gear.
Small homes, however, haven't gone away. As they continue to show up on the market, real estate agents have to get creative about marketing small homes to buyers who are expecting large, modern homes. In this guide, you'll learn marketing strategies that focus on how to make the home shine, how to create a real estate listing that highlights the benefits of small-home living, and how cues from the tiny home trend can help sell your small home listing faster.
How to Make a Small Home Appeal to Buyers
Think of a small home like a jewelry store. Pare back the furnishings, set the scene, and put spotlights on the home's best features. Here are a few ways to make a small home appeal to prospective homebuyers.
Paint- Keeping a small home's paint scheme light and bright can help open up space. Limiting a home's color choices can also create the illusion of more space. Instead of chopping up each room visually with a different color, choose one color for the entire home to help maintain flow from room to room.
Lighting- Just like training a spotlight in a jewelry store can draw attention to some of the finer pieces, lighting in a small home can emphasize seating arrangements, architectural details, or large and airy ceilings.
Staging- Swapping out the seller's oversized plush leather sectional for an apartment-sized couch can go a long way toward opening up the room and creating a better traffic pattern.
Decluttering- A homeowner's knick-knacks may bring them joy, but to a homebuyer, they look like clutter. Encourage the homeowner to clear off countertops, dressers, and every other flat surface that attracts piles of junk.
How to Advertise a Small House
What's the best way to advertise a small home?
As you sit down to write up the real estate listing, remember that it's important to emphasize the home's strengths. Start with stellar pictures, choose your words carefully, and focus on additional property amenities so that you can craft an engaging listing on your first try.
Pictures
The centerpiece of real estate listings is, without a doubt, the pictures. Start your small house listing off to a great start by investing in gorgeous, professional photos that hook a prospective buyer. For more tips on how to take fantastic photos, check out this AgentStory article.
Marketing Words That Inspire Buyers
Try these words on for inspiration: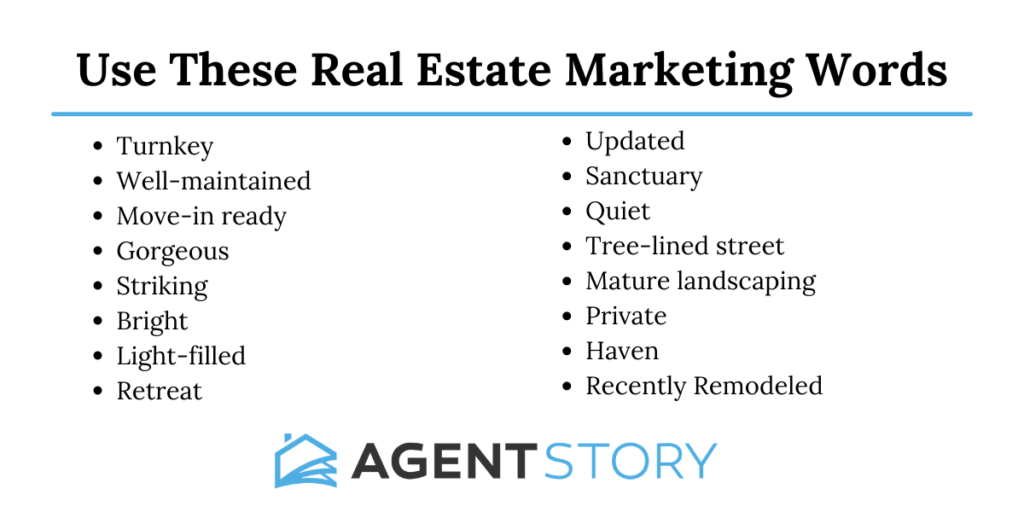 Marketing Words That Repel Buyers
After you've written your ad, take a second look and strikethrough any words you've used that are also on this list: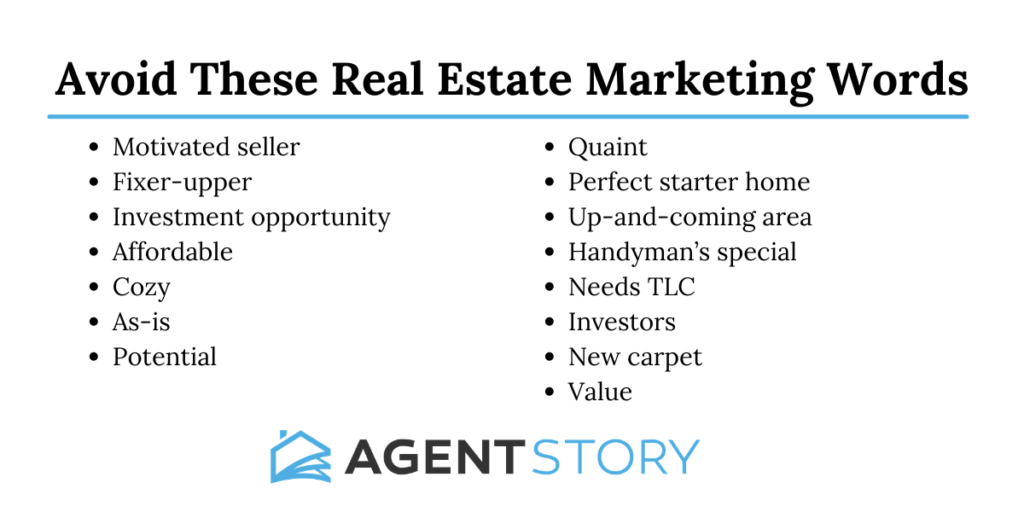 Focus on Location
If you can't play up the size of the home, maybe you can highlight its location. Buyers may be willing to accept a home's petite rooms if it means they're in an excellent school district or close to work. As the expert on the neighborhood, you'll understand what attracts a buyer to that area, and what they may be willing to compromise in space as long as they can land the location.
Emphasize the Yard
A space for pets, a garden, or a private outdoor space may all be tradeoffs that homebuyers are willing to consider when they check out a small home. A spacious yard may be more important than a large home for homebuyers, so if your small house has a spacious yard ready for entertaining, frame it as a selling point in your listing.
The Tiny House Trend
By tapping into the tiny house trend, you can reach a demographic that's already interested in smaller homes. Tiny homes are attractive to many homebuyers because they're more affordable and appeal to those who prefer a minimalist lifestyle. A small home can be seen as a positive benefit for buyers interested in downsizing their possessions.
Beyond that, the tiny house trend has defined what these homebuyers are looking for in smaller homes: clever storage solutions, perfect paint jobs, and expertly designed spaces. As you're staging a small home for sale, think about ways that you can point out the similarities between tiny homes and small homes, and then highlight some of the advantages of buying a slightly bigger house.
The Bottom Line
For many homebuyers, purchasing a smaller home is a tradeoff they're willing to make for other benefits such as location, lower mortgage and utility bills, and a chance to downsize. By targeting the right demographic, staging the home perfectly, and playing up the benefits of small-home living, you'll be able to find buyers who are thrilled to buck the trends and purchase a smaller property.