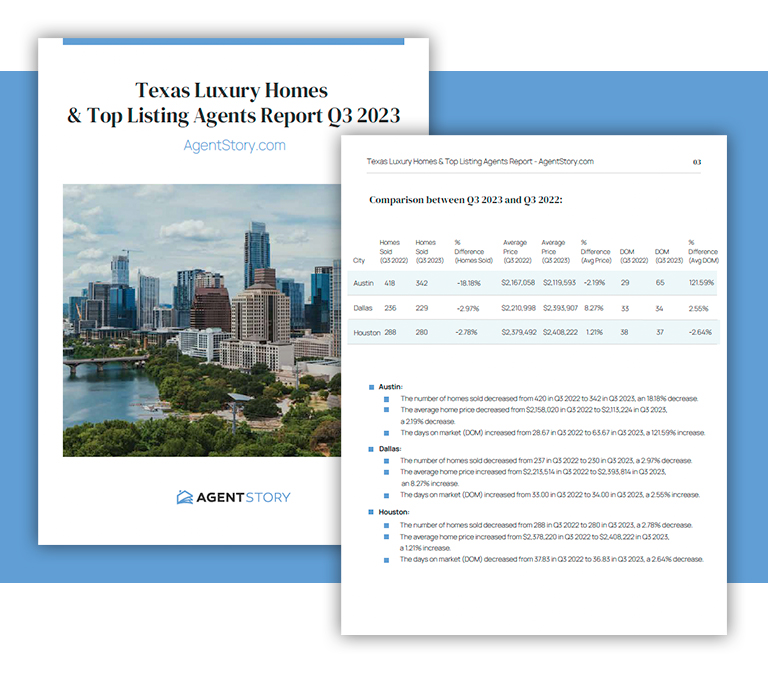 This report covers the top 10 listing agents (and their respective offices) in Austin, Dallas and Houston Texas, for luxury homes that are $1M and abve. Top agents are scored by number of homes sold as well as total sales volume, with the condition that the agent has a close rate above 70%. Close rate is the ratio of sales compared to the number of listings. The data on agents is from mid November 2022 through mid October 2023, so what you are reading is fresh intel!
In conjunction with the top agent information, our analysis compares sales trends of Q3 2023 versus Q2 2023 & Q3 2022 to understand home the luxury residential market has changed over the last year. Whenever possible, we include key summaries and graphs so the data is easier to grasp. This analysis covers single family homes that are $1M or more, for the cities of Austin, Dallas & Houston Texas.
If you would like to read the full report, click here to download. For deeper information on any top agent, type in the agent name in the search bar on AgentStory!
Top 10 real estate listing agents for Dallas, rated by total sales volume, single family homes above $1M, with a close rate above 70%
Agent Ranking
Agent
Name
Office
Name
Sold
Total
Sales
Median
Prie
1
Amy Detwiler
Compass RE Texas, LLC
8
$27,650,300
$3,800,000
2
Nancy Johnson
Compass RE Texas, LLC
21
$26,453,750
$1,250,000
3
Faisal Halum
Brigss Freeman Sotheby's Int'l
12
$24,242,417
$1,905183
4
Danna Morguloff
Hayden
Ebby Halliday,
REALTORS
8
$19,555,000
$2,963,50
5
Sharon Redd
Dave Perry Miller
Real Estate
3
$19,370,000
$6,755,000