Buyers' first impressions typically form online these days, and agents only have seconds to grab their attention. One of the newer residential real estate trends agents should know about is virtual home staging. Virtual staging can save your clients time and money because instead of having to move rented furniture in (which gets expensive), you can "move" furniture and décor around online without breaking a sweat. Sellers can hire a professional stager to do the work quickly for them, and have a vacant home ready for showing. If you haven't asked new clients about staging yet, up your agent game and learn the top tips to stage a home virtually in this article.
What Is Virtual Home Staging?
Virtual staging is a type of marketing that allows sellers to enhance their homes with digital furniture, accessories, and décor in digitally-altered photos to increase their chances of a successful sale. As a seller's agent, you would work with your client, a photographer, and a home staging service or freelancer to add tasteful details.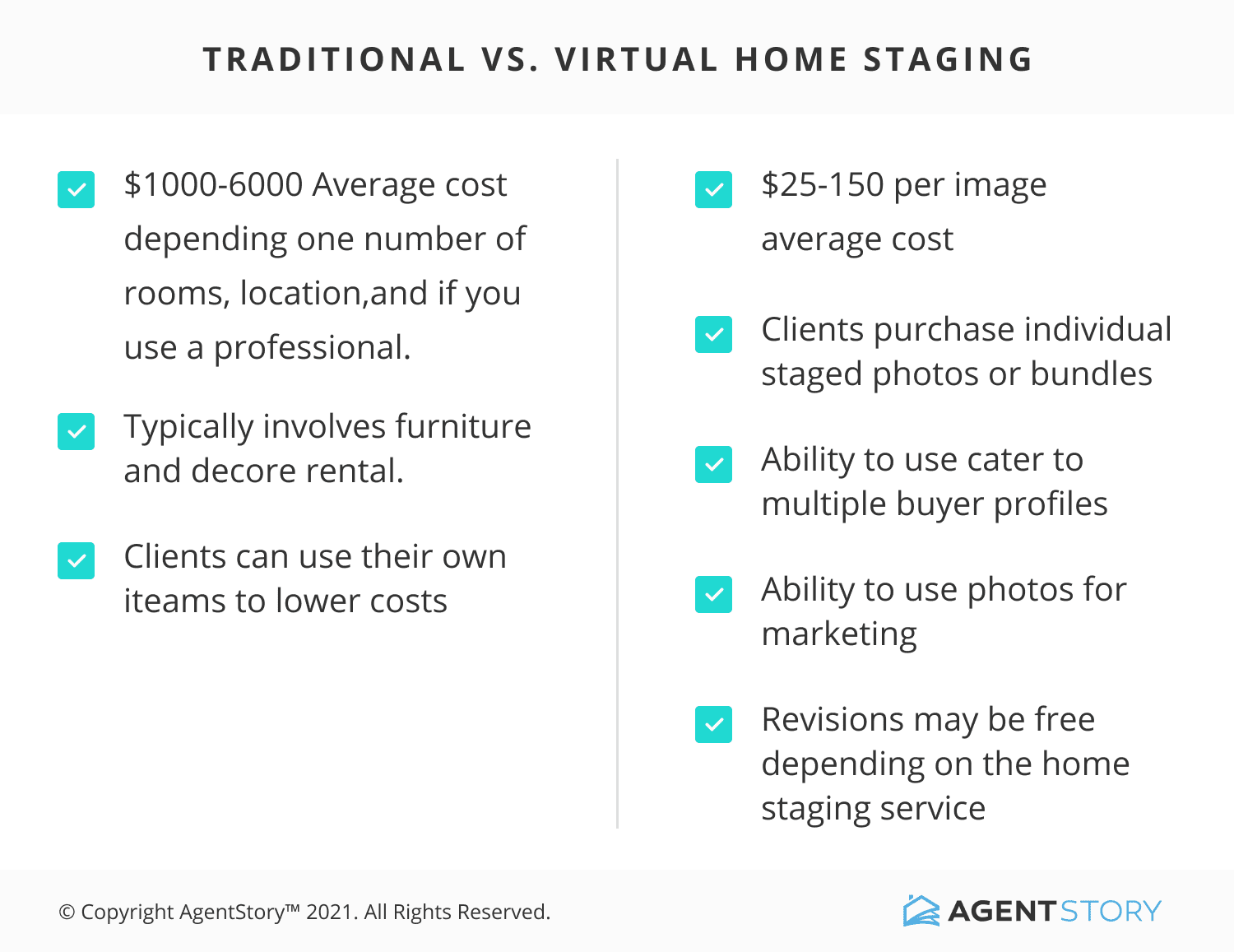 Virtual staging can help sell a home an average of 1-5% faster with a smaller price tag than traditional staging methods. While staging is not required, a 2019 NAR report revealed that 44% of sellers' agents surveyed recommended decorating and staging, and 63% recommended using professional photography for their clients.
When to Consider Virtual Staging
Some telltale signs that your client could benefit from virtual staging:
Seller needs to sell the home quickly.
Seller doesn't want to pay for traditional staging / lacks budget.
Seller lacks the appropriate furniture for staging purposes / would like to keep the space empty.
The home will be difficult to sell. E.g. location, age, interior looks too plain, the best features are not emphasized, or major living areas need cosmetic changes.
Deep Cleaning Comes First
Before you shop around for a virtual staging service or freelancer, encourage your clients to deep clean their homes before they begin the staging process. Ensuring the home is sparkling clean will make professional photography stand out. We have a comprehensive guide you can print with a detailed list of the supplies sellers will need and cleaning opportunities for every room in the house.
Top Virtual Staging Tips
1. Use Professional Photography
Your marketing strategy should include professional real estate photos. A pro, especially a photographer with real estate experience, will know what angles and lighting are best to showcase your client's home. You'll want to have high-quality photos on hand before you digitally alter the images. Refer your clients to a photographer you've worked with before or search for one together.
2. Search for Top Staging Talent
Create a list of top staging companies or refer your client to a freelancer specializing as a stager. Remember that stagers are not licensed real estate professionals. Staging won't guarantee a home's sale, but consider that the investment will likely pay off when you use a reputable business. Some services will offer free revisions to the images or bundles for multiple staged rooms.
3. Research the Home
Carefully research the home and look at what buyers in your area are looking for. You'll want to consider multiple buyer profiles, and the home type (modern, traditional, Scandinavian, etc.)
4. Go Neutral
While your client might like bright colors, stick with a neutral palette for furniture, accessories, and décor.
5. Add Extras
Sometimes adding furniture alone can look dull or cold. Add plants, tchotchkes, children's toys, or even neutral wall art if it contributes to the room. Resist the urge to clutter the room with items; more is less!
6. Swap Out Outdated or Ugly Furniture
You can hide unsightly furniture (even if it's in your original photo) with a piece of digital furniture. Ensure that the style is consistent and logical in all of the house photos you use so that buyers flock to the home.
7. Add a Pop of Color
It's fine to place a plant on a table or a decorative pillow on a couch, but don't go overboard! The goal is to use it sparingly to avoid distracting buyers.
8. Make Labels Clear
In your listing, you'll want to clearly label the photos. A best practice is to display the staged ones first followed by the unstaged ones. If you have multiple room types depending on buyer profile (e.g. home office, guest bedroom) label the room type in each image to avoid confusion.
Warnings
Keep in mind that you can add things but can't alter permanent fixtures such as built-in cabinets, wall colors, or other features. Altering existing features is misleading to buyers and can lead to legal trouble.
You'll need to disclose that you used virtual staging in your listing.
Make sure to stick with your client's budget. If they aren't comfortable with the price tag do not pressure them to work with the stager.
The Bottom Line
If you haven't explored virtual staging with your clients already, it's certainly worth a try. If you have clients who are looking to sell quickly or don't have the budget for traditional home staging, this might be an attractive option. Buyers remember well-staged homes because furniture, décor, and colors that complement each other can bring out a home's beauty. Learn more about virtual staging to learn new skills and get an edge on the competition.