The national real estate salary is $60,133 at the time of this writing. However, take this number in broad strokes and remember that agents, especially new ones, make a highly variable salary. You can make well over $100,000 a year with experience, time, and specialization. On the other hand, new agents might struggle to make a sizable salary when they're just starting out.
So, how much money do real estate agents make? What factors differentiate an agents' potential salary? And how do agents make money in the first place?
In this article, we'll answer those questions and more so you can understand where you're at, where you're going, and how to get there.
How Do Real Estate Agents Make Money?
Real estate agents are salespeople, and most agents make the bulk of their income on commissions. When you represent a buyer or seller, you'll receive a commission once your client closes on the home. Seller's agents will determine the commission amount (the average varies from state to state); The commission is paid to the broker, and the broker then splits this percentage with the buyer's and seller's agents.
However, there are exceptions. Some services like Redfin offer agents a base salary with bonuses, and occasionally you'll find brokerages that pool commissions amongst agents.
If You're Just Starting Out
Chances are if you're just getting into the real estate industry—like most professions—it's a steep climb to the top. The major difference is that your number one asset is you. Green agents can come out in the ring swinging and build their network quickly with the right amount of charm and grit.
So what does the average agent make with less than two years of experience?
According to a study conducted from 2019 to 2020, a first-year real estate agent makes roughly $20,000. However, before you hit the red 'X' in your browser window, consider this—your salary can double after the first year and then double again by year four, which means that after four years, you could be making over $75,000 with the potential to exceed that amount.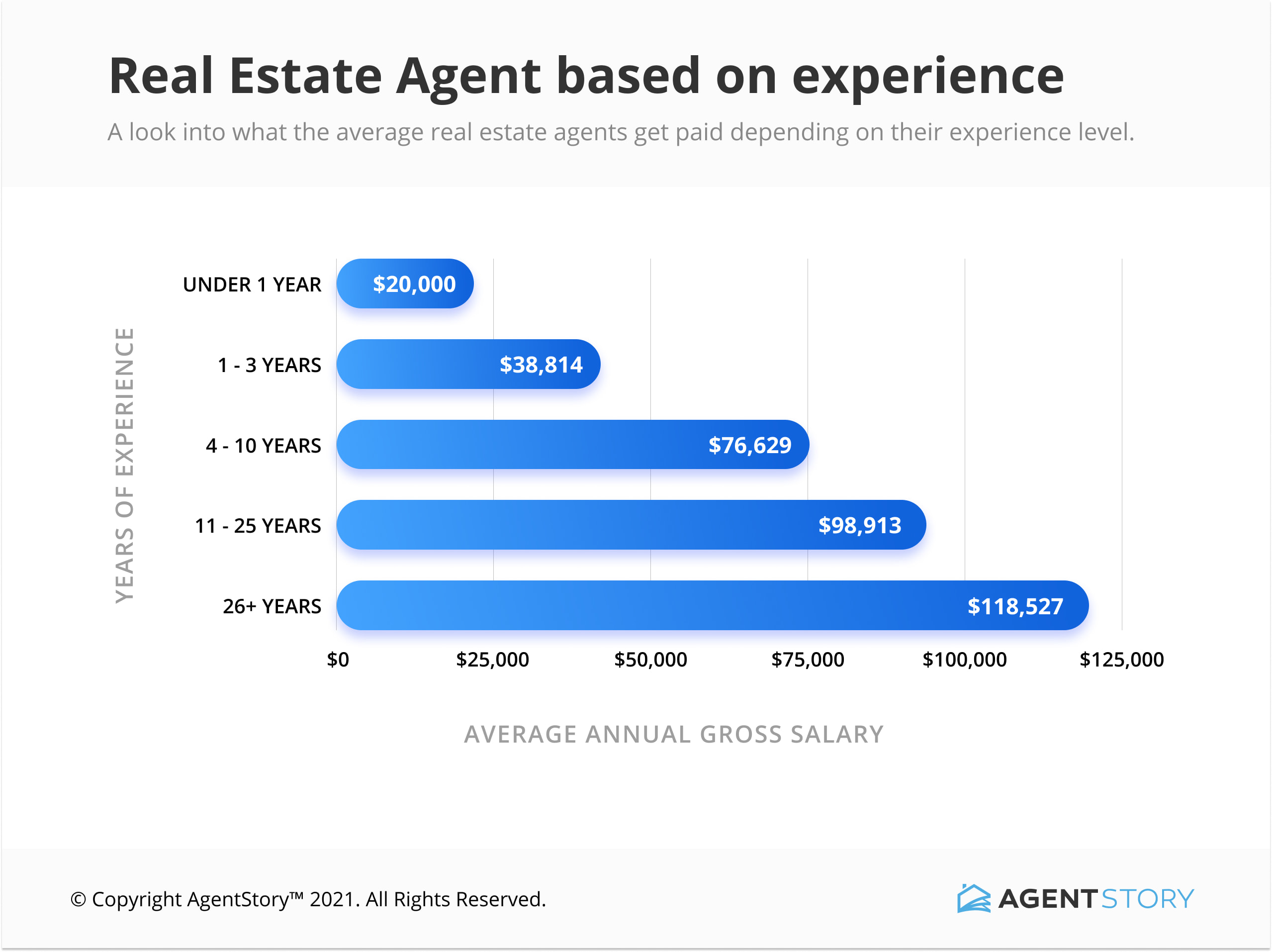 Experience and Time Pays Off
Experience pays off in the world of real estate. Seasoned agents have the opportunity to make over $100,000 a year. However, at the beginning of your career, it can be rough. Throughout an agent's tenure, the most significant growth prospects are nurturing personal networks, closing deals more often, handling objections, and narrowing marketing efforts.
Time is important, too; many agents who are just starting can't afford to go all-in on real estate. You can choose the number of hours you work each day which provides an excellent opportunity to create a work-life balance. Be wary, though; it's easy to put in too little or too few hours when you have the freedom to choose. Many agents will take on a heavy workload early on to make up the difference in pay.
Agents Filling a Niche Have Higher Salary Potential
If you're trying to make a lot of money in the real estate industry, there are some lucrative opportunities, namely in commercial and luxury real estate. Suppose you factor in a 3% commission and include variable expenses such as brokerage splits, marketing, MLS dues, transportation, and other essentials. Most agents need to sell many homes to cover these costs and pay themselves a decent salary.
And if your goal is to make six million in sales, getting there selling $200,000 homes is going to be a struggle.
When you get your real estate license, there aren't any boundaries, and specialization can often sway sellers—especially with large transactions—to pinpoint specialty agents.
Luxury Real Estate
This is where luxury real estate in urban areas comes into play. If you could pour your resources into one home worth ten transactions, you would altogether bypass the busywork associated with selling many homes. Focusing your marketing efforts on luxury homes and the people that sell them can supercharge your earnings potential.
The commission doesn't change (in most cases) because the price tag does. Luxury agents, on average, double their salary in comparison to regular agents.
Commercial Real Estate
Another niche you can explore is commercial real estate. Large apartment complexes, office space, hotels, and other commercial properties often come with much larger price tags than traditional family homes.
Getting comfortable with the product you're selling and educating yourself on the market can boost your chances of landing your first listing. Once you begin to network inside a specific niche, you can build your sphere of influence and advertise your expertise.
A commercial agent's average income is even higher than luxury agents, about $86,908 annually (as of March 2021).
How Your Brokerage Affects Your Salary
The reason real estate agents interview their brokerage is the massive impact it can have on their paycheck, among other factors. There are many different types of brokerages, each with its own fee structure for agents. Here are a few common ways brokerages can affect your take-home pay:
Commission Splits
After you've split the commission with the other agent involved in the sale, the brokerage will take its cut. Every broker will have a policy on commission splits that you should ask about before you join. Many new agents will receive entry-level commission splits until they've gained tenure. A brokerage split of 50/50 would indicate the broker keeps $5,000 on a $10,000 commission.
Some brokerages will "cap" these fees once you've exceeded a certain threshold.
Royalties
Notable companies like Keller Williams Realty and RE/MAX will charge a royalty or a franchise fee. You're paying a percentage of your commission to carry the franchise name. This depends on your local market and the brand name you're carrying but will usually result in a 6% fee of your post-split commission.
Some brokerages will "cap" these fees once you've exceeded a certain threshold.
Monthly Fees
Many brokerages will charge monthly fees for an assortment of services they provide, such as print material, technology, software, errors and omissions insurance, education, and others. Understand what you're paying for before joining a brokerage to mitigate any loss of commissions.
The Bottom Line
Real estate agents start out small but can quickly ramp up their pay with the right experience and time commitment. Agents also have a chance to branch out into specialty real estate and make a larger salary. Real estate agents earn their money on commissions and must consider this when agreeing to work with a specific brokerage.